2019 Belt&Road and BRICS Skills Development and Technology Innovation Competition Open in Gu'an
Morning of 6th,Sep , 2019 Belt&Road and BRICS Skills Development and Technology Innovation Competition China Division Opened in Gu'an,Langfang city, Hebei Province, total more than 800 persons attended the opening ceremony including participant from home and abroad, represents from BRICS BC, leaders ,experts and others China Welding Association, China Welding Technology Association of Workers, China Invention Association, China Center for International People-to-People Exchange, Ministry of Education, Langfang international chamber of commerce, Zhongguancun Science Park Haidian sub-park.The following honored guests attended the opening ceremony, they are :The Chairman of China Machinery Industry Federation Mr Wang Ruixiang, Vice Chairman of All-China Federation of Trade Unions Mr Gao Fenglin, Secretary General of China Invention Association Mr Yu Huarong, chief supervisor of the Chinese Mechanical Engineering Society Mr Song Tianhu,Vice president of China workers' education and vocational training association Mr Bi Jieli, Director of China Center for International People-to-People Exchange, Ministry of Education, The Chair of BRICS BC China section Skill Development Working Group and the president of International alliance of skill development Dr.Liu Zhenying.
The Competition including: Seventh International Welding skills Competition, Third welding Technology Competition, First All-Position Automatic Welding Competition for pipeline, Mechatronics, Internet of Thing, Industry internet, VR/AR, Reversing Engineering and Elevator Assembling. The aim of this competition is to build a international cooperation platform for talent of Belt &Road and BRICS skill development and technology innovation, speed up cultivate for future skill talent, promote and improve the level of globe future skill.
The Competition get great support and participant by BRICS and Belt& Road Countries, total 564 excellent competitors from 109 teams compete together, among them, 108 participants from 10 abroad teams, including Russia, India BRICS countries and Romania, Indonesia, Iran, Bulgaria, Serbia, Vietnam, Cameroon Belt and Road Countries, 456 participants which including HongKong from 16 state-owned companies,22 vocational college/secondary school, 4 related companies and organization.

As Known, most of oversea competitors of Arc Cup international welding competition are the best one in their own country, the domestic competitors are all excellent welders from state-owned company and colleges after several selection competitions. They also took part in the Sixth Robot international welding competition which is one of Arc Cup event. Now they will compete in every project of the Third Welding Technology international competition and Seventh Welding skill international competition.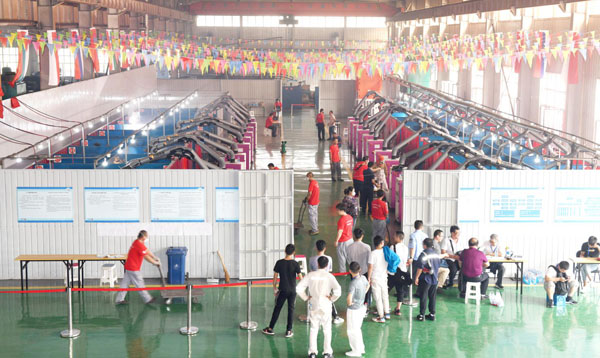 Begin with 2010, the Arc Cup international welding competition has hold 6 sessions already, total more than 1500 excellent competitors from domestic and abroad show themselves and exchange with this platform, the achievement of competition get highly admitted. Which be honored "welding world cup" , the competition has become one of the most important competition.
This competition play an important role in promoting international skill development and technology innovation, Future skill talent cultivation and international technology cooperation.
Firstly, The competition has wide range, its skill level has the full representative
Domestic 154 competitors are from 16 state-owned company including CRRC, CNOOC, DATANG GROUP, HUANENG GROUP, ENERGY CHINA, Shanghai Zhenhua Heavy Industry company, National Energy Group, CNPC, CNPC engineer company, CNPC 7th engineering company, China Aerospace, China Military Group, China Railway science and industry group, China Railway Equipment company, Zoomlion, China Nuclear Engineering company. Which cover all basic industry system aerospace, aviation, energy, ocean, transport related in welding. That is to say, this competitor skill ability stand for China welding industry general level and the level of general manufacture industry, we also invite great country craftsman Mr Gao Fenglin as Judge, He welded the rocket motor more than 90 pcs, which is 40% of total rocket launching, get through more than 200 tough difficulty.
The participant also include about 100 young student, they are from Wuhan shipbuilding vocational college, Changzhou engineering vocational college, Jilin railway vocational college, Jilin vocational college of electronic information, Guangxi Mechanical technician college total 23 vocational/secondary college, The international welding competition is their ladder to success, In the future, they will be the new force of welding talents in every field.
Besides state-owned company and vocational college, there are also 25 competitors from 4 companies related to welding such as Chengdu Hangli group, Zhengzhou Yuguang composite material company, They represent the social power and innovative vitality that cannot be ignored in China's welding industry.
Second, This competition will promote the process of future skill talent cultivation and improve the general level of international intelligent manufacturing.

This competition include industry internet, mechatronics, Internet of thing, Reverse engineering and VR/RA, which are the core skill of intelligent manufacturing, The implementation and promotion of these competitions can not only promote the progress of intelligent manufacturing technology, but also promote the transformation, upgrading and development of local and even national manufacturing industry by developing future skills projects focusing on intelligent manufacturing.
Third, this is an effective platform for international skill talent training, contribute to Belt and Road Construction.
Belt and Road Construction not only need Hi level management and professional technical persons as support, but also a team of highly skilled talents with excellent skills and high quality is needed as the pioneer and main force.
Arc Cup competition with wide spread participation, strictly requirement, high level, focus on skill development and technology innovation, is a great event for every country welding talent, also a high level skill compete with each other and review. So every session Arc Cup is a good change for competitor to learn and exchange, At the same time, inspiring welders' enthusiasm to learn welding technology and welding skills, it has also cultivated a large number of skilled talents who can meet international engineering requirements and be familiar with international technical standards.
More than 300 "state-owned company technical talent" "state-owned company young talent" which selected from Arc Cup competition has become technology backbone and skill leader of every company. Total more than 80 colleges participated and won the international prize, supply better chance for student future.
With the development of Belt &Road proposal and BRICS cooperation mechanism, the excellent competitor who stand out from competition will use the resource and talent advantage of vocational education ,speed up meet international environment ,move all country skill standard harmonization process, help the company who has oversea project solve the local skill talent training problem, let the talent as the pioneer of Belt&Road, set bridge for Belt and Road construction.
Fourth, Belt&Road and BRICS skill development and technology innovation competition will become a foundation stone for belt&Road and BRICS, also for globe future skill development.
2019 Belt&Road and BRICS Competition is one of exchange activities for driving political ,economy , humanity among Belt&Road and BRICS countries, also an important mechanism of BRICS long term Cooperation.
Previously, 13 skill competition start competition in China division and more than tens of thousands of people took part in this competition, the skill including 3D printing modeling, stamping die design ,AGV operation, digitalization control technology, Internet of Thing, Industry Robotics, internet innovation, elevator maintenance, industry smart AGV platform, big data, mobile robotics, international robot welding, block-chain technology. The following skill competition was held in Russia division ,including rapid prototyping, VR/AR, Block-chain, industry design, industry robotics, internet of thing, machine learning and big data, mobile application development, reverse engineering, UAV operation, robot welding ,industry 4.0.The winner competitor of China division take part in Kazan future skill competitor and got 1 gold, 4 silver and 2 bronze achievement.
The organizer of this competition is international alliance of skill development. Which is a platform for Belt&Road and BRICS in training, certification, standard harmonization, competition, technical exchange and talent flow. Now this there are more than 300 members, all parties will cooperate closely to speed up talent training and flowing.

We look forward to seeing the BRICS competition can root in China and spread to world according to BRICS and Belt& Road proposal, drive the cooperation in talent training and skill research, culture exchange among BRICS and countries along the Belt and Road, drive the cooperation in training talent between colleges and companies along the Belt and Road, to be the foundation stone of BRICS and globe future skill development.